BBS KJS held the first ever virtual English Week. The event was full of excitement, competition and determination. The theme was "Dreams and Aspirations"
Written by: Adrian (2 Taylor)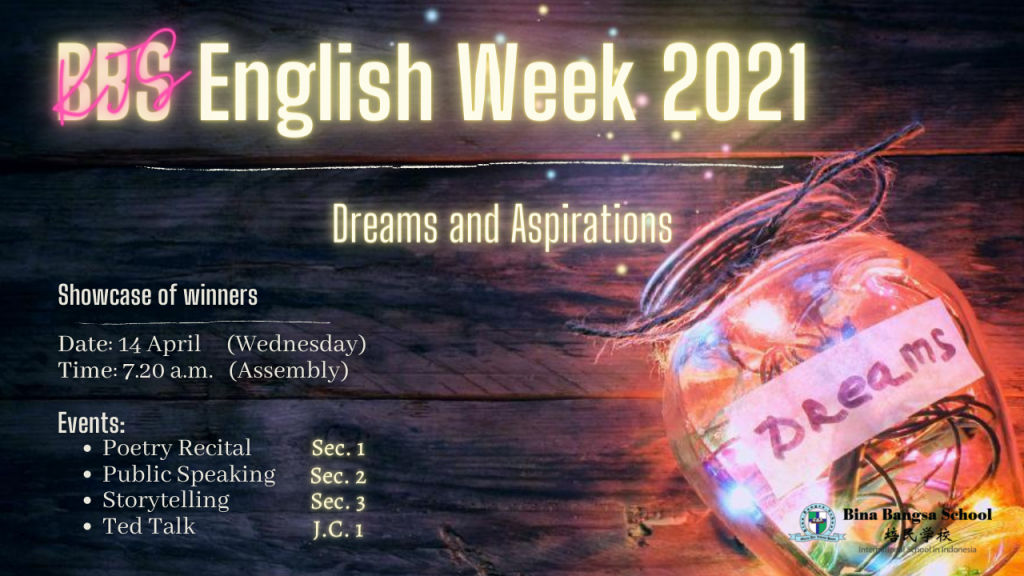 Students from Secondary 1 up to Junior College 1 gave their best in various activities ranging from poetry recital, speech, storytelling to Ted Talk. After the judging of projects, the winners were announced during Wednesday's assembly.
"Hold fast to dreams,
For if dreams die
Life is a broken-winged bird,
That cannot fly."
― Langston Hughes

Anticipation filled the air as the results were announced. Overall, it was a
survival of a fittest. Nonetheless, hats off to everyone for taking part whole-heartedly and making the most out of the event.
Starting off with the winner of secondary 1, we have Paris with a beautifully crafted and beautifully recited poem.
The winner for secondary 2 was Kendra with a speech which was
definitely a true aspiration.
For secondary 3, the winner was Winston, with brilliant and immersive storytelling.
JC1's best speakers were Russell, Richie, Shannon, Jensen, Ivesa and Shania.
Credit to the winner of JC1 for the best Ted Talk group video – Jacelyn, Richie Wilynnton and Caroline Suhaimi (Group 12) titled "The Uneven Wealth Gap"
This English Week showcased the many talented students in public speaking, poetry writing and recital, and storytelling. Congratulations to the winners, finalists, best speakers and all the participants!