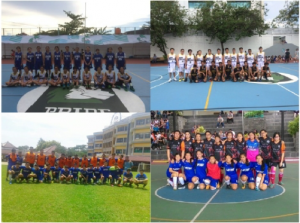 On the 1st-8th of October 2016, our school's sports teams participated in an event called the Pride Cup in Tunas Muda International School. This was the 22nd Tunas Muda Cup. Coincidentally, this event was held on the term break, so students participating did not have to juggle between school work and sports all week. The teams who were participating include both the girls and boys basketball team (upper and lower secondary), girls and boys futsal team and the photography team.
The competition was tight between schools and everyone was trying their best, including us. We are proud to announce that the girls futsal team, lower secondary futsal team and girls basketball team won 2nd place.
This was our school's first participation in a cup outside BBS for the academic year 2016-2017 so we have high hopes for the next cup that we will be joining in the near future.