The Bilingual & Bicultural Studies Program (BSP) by BBS KJS is a community outreach project
Written by: Warren Leander Lie and Georgius Dave Basri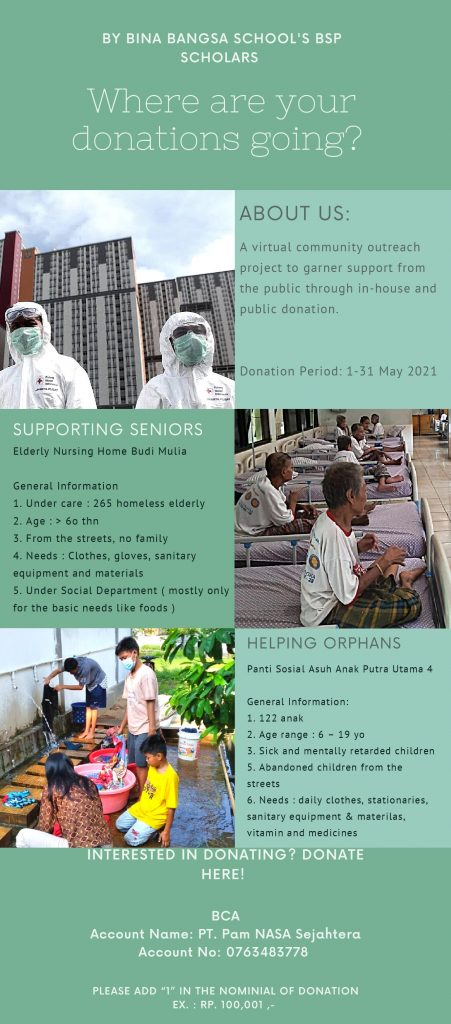 The recent emergence of the COVID-19 pandemic has had a significant impact in my life. Undoubtedly, it's a quite new and unique experience that I have never seen anyone in this generation go through.
Not only limited to Indonesia, all around the globe we are going through a difficult situation in this current pandemic. Many around us are affected mentally and socially even without being directly exposed to the virus. These ultimately are believed to have a part in affecting an individual's typical life, which consists of self-care, productivity and leisure.
Needless to say, these pandemic days are not like the other typical days that I have lived through in Jakarta. There has been a big change in lifestyle that has been brought by COVID-19. I used to love attending the scheduled classes at school, meeting friends at my favourite coffee shops and performing compulsory outdoor exercises at the campus every week.
However, we are lucky enough to be able to purchase basic needs, go out while abiding by the many precautions, meet friends online, and still go to school via online learning. Others might not have these privileges, such as the 265 homeless elderly residing in Elderly Nursing Budi Mulia, or the 122 orphans in Panti Sosial Asuhan Anak Putra Utama 4. The staff taking care of these people have been working day and night before the pandemic even began to fulfill the basic needs such as clothes, medicine, food etc. Now, with COVID-19, they have to add on to the financial burden in order to purchase gloves, masks and sanitary equipment.
One donation is the cause of someone's smile. It will not be an easy journey, but I sincerely hope that we can make life a little better for these people in need.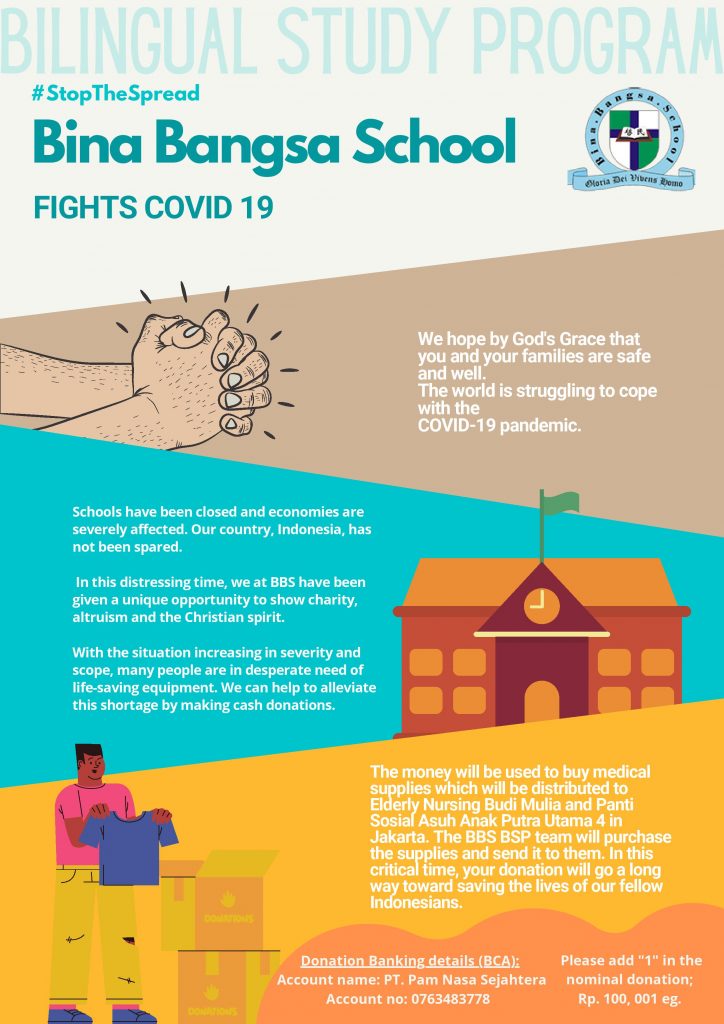 It has been over a year and we are still unsurprisingly stuck cooped up in our tiny living quarters living somewhat boring lives. The seemingly unstoppable rise of the novel coronavirus "COVID-19" and its genetic endeavors of malice continue to worsen eve aspect of the world as it tightens its dark grip on earth. It has caused economic problems that have plummeted the world trading systems and made our lives as it is now. However, we may have been some of the more fortunate people in this pandemic. There are other people in the country that do not have the same safety and living standards we do now.
Since a majority of our country is still in poverty, they have little to no information about the pandemic until the government placed protocols in each city. Even with all these efforts it has not reduced the cases and deaths caused by the disease. There is a lack of security and control over the other cities, not to mention rural villages that still exist which allow cases reported or not to spike. They live in fear of an unknown threat and haven't the slightest clue as to what it is and all the harm it has done to the world.
As for those who live in orphanages or elderly housings, they are also at risk of the virus. Funds from people and the government are rapidly decreasing and they are barely able to get by with enough masks and a minimal amount of food to keep everyone in moderate health. If this does continue they would be the ones infected and innocent lives would be taken. In conclusion, I urge you all to donate to such foundations like Elderly Nursing Budi Mulia and Panti Sosial Asuh Anak Putra Utama 4. Any sum of money helps save lives.