The Bilingual & Bicultural Studies Program (BSP) by BBS KJS is a community outreach project
By Richie Willynton and John Alexander Sentosa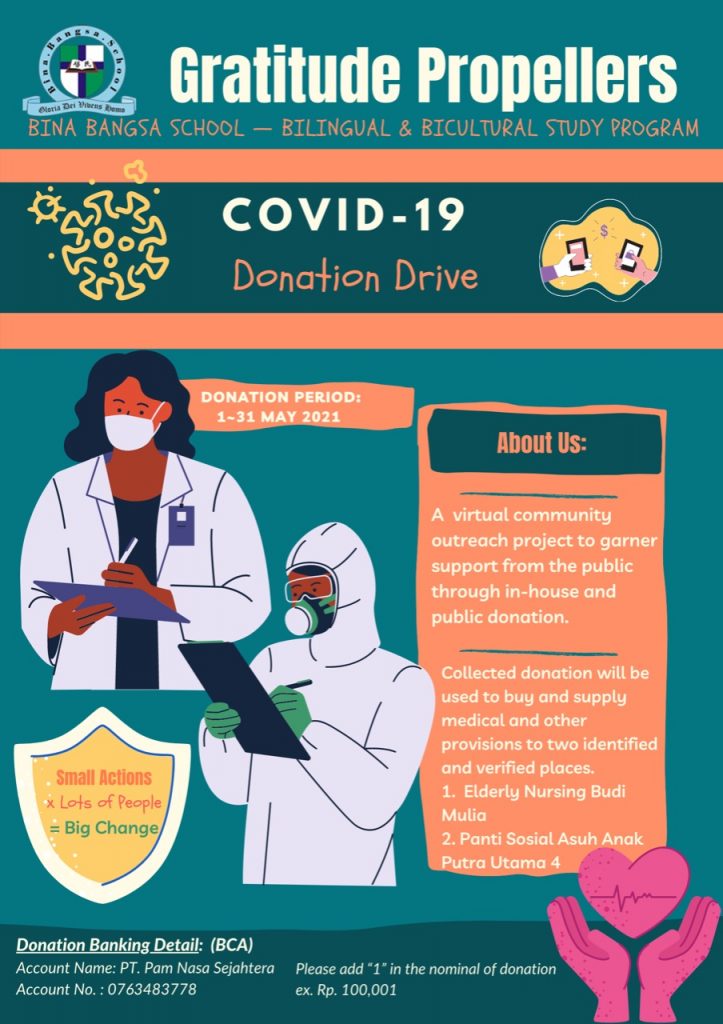 The words "Covid-19" used to be a word that no one knew or heard of, but now, everyone is sick and tired of hearing about it. All of us have been negatively impacted by this pandemic one way or another, whether it is mental health or studies. Despite the amount of struggles we, the students of Bina Bangsa, have faced this past year, we are privileged to be able to still obtain proper education and basic needs in the midst of a global pandemic. Staring at computer screens for more than 8 hours a day is nothing compared to the battles the less fortunate individuals have to fight in order to survive.
The pandemic has greatly worsened the conditions of those in orphanages and nursing homes. Affording basic needs is already a burdensome task for them, and now that they have a deadly virus to worry about, their financial situation only exacerbates. On top of basic needs, they have to put money into masks and alcohol. In order to protect themselves from the virus, they not only have to look out for the orphans and elders, they also have to look out for themselves.
However, the provision of these medical and other basic needs is a very strenuous task. That is why we, members of Bicultural & Bilingual Study Program (BSP), are creating a program where everyone will be able to donate to their heart's content. The entire donation gained from this effort will be used solely for the purpose of supplying medical and other basic needs to Elderly Nursing Budi Mulia (nursing home) and Sosial Anak Putra Utama 4 (orphanage). Any donation you make, whether it is big or small, will mean the world to them and us.
The donation banking details are as below:

Bank Name                           : Bank Central Asia (BCA)
Account Name                     : PT. Pam Nasa Sejahtera
Account number                  : 0763483778

**Reminder                          : Please add "1" in the nominal of donation. Ex. : Rp. 100,001 ,-
关于covid-19的主题已经不陌生了,我们看过很多人被covid-19影响了。因为这种病,人们亲爱的亲戚和朋友去世、也会感觉不太舒服。整几个月,病人的数量越来越多,一次增加,我们被政府需要每个时候戴口罩和保持距离。斐然我们应该遵循规则,但是有时候可以非常难避免这种疾病。我们现在会在陪民学校学习真的是个特权。虽然我们会有一点不舒服的,一次在我们电脑前面学习,会觉得非常,但是,我们的困难比很多人,例如老人或的孤儿,还没事。
因为这全世界的问题,孤儿和老人的生活区情况越来越差。第一,因为老人的健康情况越来越穷,我们因该会决定员工和老人看护的身体会总是健康所以他们不把疾病传播给老年人。
第二,不但我们要对员工的健康注意,而孤儿和老年人的健康很重要。他们需要药、维生素、和健康食品所以他们的身体会面对病。增加,口罩和杀菌洗手液还非常重要。在贫困的社区,是非常难提供这要求如果食物还提供不到。 这是为什么培民学校创建了一个程序所以每一个人会捐赠。你们的捐赠,大的还是小的,会真的影响他们的生活。